Wushu Stockholm IF at the International Wushu Coaches Training Course, part 3
Here I am again.
Yesterday, my changquan group had no classes in the morning so I followed the nanquan group for 1-hour-training of the 3rd set routine and then for reviewing the 3rd set changquan and gunshu routines by myself. The gunshu routine took me long time to remember and for doing it from beginning to end… and the pace of my performance was quite slow too ;). Otherwise I got some details about the new nanquan but not so much because the nanquan group was just reviewing it.
To avoid to look like a newbie at the DaoShu class in the afternoon, I tried to learn fast as much as I could with help of the video just 30 minutes before the course. I could go through the maybe 10 first seconds of the routine. Go and check it on youtube and you will understand why 😉 Anyway, she, Zhou LiJuan was not so impressed by my performance I think during that class either, but I worked hard and she allowed me to take a picture with her! Ha!
The evening we went with all the participants who wanted to to a touristic place in ChengDu, JinLi street, which looks like a little town and traditional chinese garden at the same time. It was nice to do something else than the common room-restaurant-room-training-room-restaurant-room-training-room-restaurant-room-and so on… 😉
I actually also went to ChengDu sports university which was just next to that place, and bought a pair of new wushu shoes. Of course I bought wrong size because i trust the seller and didn't check if it was right, but they seem to fit anyway. I will come back tomorrow or the day after tomorrow for doing some wushu shopping!
Today was our last day of class training. We reviewed the changquan, daoshu and gunshu 32 (or C-group taolu, or elementary routines, or sanlu/sanduan, call it whatever you like!) in the morning with Li YingKui and Zhou LiJuan, and the afternoon, we got a taiji exhibition of the Chinese wushu team. They also revealed some new stuff for wushu with new nandus, new categories, and a new way of judging for taiji which will be tried during this weekend at the World classic TaiJiQuan competition in ChengDu. Then we also got some theory and exercises for helping and assist our students to get better and safer NanDus (=jumps and other difficulties). Quite interesting 🙂
Unfortunately, I can't write more now, because I need to rest and sleep before tomorrow morning's examination… Like many others, I reviewed what I will show tomorrow (changquan and gunshu) in the hotel's corridor…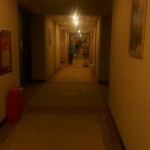 Wish me luck,
good night!