Once upon a time in China or the final part of Wushu Stockholm IF at the International Wushu Coaches Training Course
I'm finally back in Sweden and here comes the last update about that awesome trip to my beloved China..
First I would like to start by summarizing this intensive journey in ChengDu, China.
I was there between the 13th and the 22nd of June and I did a lot of wushu-related things:
1. Theory/run-through about judging (A, B and C-judging) and coaching (draft of training plan, creation of optional routines)
2. Practicing the new set in changquan, nanquan, daoshu, gunshu (I also got for free the all new wushu books of the routines and the DVD of the new taiji standard. Nice! ;))
3. Reviewing the elementary routines (standardize as they said) for changquan, daoshu and gunshu
4. We got some theory and physical exercises for training the degrees of difficulties and some important advices for improving our athletes abilities and health
5. We also got to see a class with the Sichuan Team training, and a show in TaiJiQuan from the Chinese team
6. I met a lot of new wushu friends from all over the world! 😉
It has been an inspirational trip and it gave me new energies for improving the training at Wushu Stockholm IF and with the national team in Sweden. Now the real training begins!
I spent one last day in ChengDu after that the course was over. I had only two things in mind that I should have done before leaving that city for ChongQing, because I knew that I would not have the time for more:
– the first one was to go to the Chengdu Research Base Of Giant Panda Breeding, which is the largest giant panda Eco-park in the world
– and the second one was buying as much wushu equipments as I could.
Chengdu Research Base of Giant Panda Breeding (long name) is a very beautiful site a bit outside the city and where they have 83 giant pandas plus other red pandas and endangered species. They have been able to achieve that number from a population of 6 giant pandas at the very beginning, and without taking other pandas from the nature to the center since the base opened in 1987, which I think is quite amazing. If you are in ChengDu, I highly recommend that you go to that place which, in my opinion, is a must-see!
I also walked in the surroundings of ChengDu Sport University for buying some wushu equipments. I didn't find a good wushu shop, or maybe we have to face the fact that there is no good and professional wushu shop: how hard is it to have a stock with training and competition weapons, good competitions taolu and sanshou clothes/equipment, with books and DVDs' instruction material, all that in a well organised shop. If you know one, tell me where! Otherwise I will start to think that I have to start a shop like that…
My last day in China was in ChongQing because my flight back to Sweden was from there. At first I kind of hated ChongQing, because I had to find a hotel without knowing anything about the city, and with my luggages on my back and front which was quite heavy. I picked at random one subway station to go from because the name sounded like "there, there could be a hotel". I arrived at a place surrounded with big skyscrapers, some in construction others in desolation, like everywhere in ChongQing. After have been looking around for 1,5 hours, I found one, probably not for foreigners, but they were kind enough to accept me after 30 minutes of shilly-shallying and also thanks to the help of different persons who relieved one after the other for helping me. Thanks to that experience, I learned the word hotel in chinese ;).
After that i spent my day downtown in ChongQing which was actually quite interesting. ChongQing has a uncommon relief in comparison to other big cities in China that I have been: it goes up and down, a little like the mountainous relief of my hometown Marseille. I finally like ChongQing for it and also because it really looks like the apocalypse city from a japanese manga (like in "Akira").
Nothing special to say about the flights back to Stockholm. They went as they should, and it actually went fast. It was a great journey, and I'm very thankful that our club did support me for doing it. I will give it back at our training sessions, I guarantee you that! 😉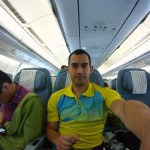 Now it's time to end that little reportage and nothing better than the music of Jim Morrison for doing that. See you and Enjoy!
The End.